The Monheim Geyser
A fountain that's up to twelve meters high and violent eruptions with fifteen cubic meters of water in tremendous motion – Monheim am Rhein has a geyser in the middle of a traffic circle, on the Rhine Promenade. Only nature knows exactly when it will erupt again.
A work of art on a traffic circle in the middle of the city
The Monheim Geyser – a man-made natural phenomenon in the middle of the city – is a work created by artist Thomas Stricker. The eruptions appear chaotic, wild and unpredictable and are not only a spectacle for pedestrians and amateur photographers. The geyser also brings the seemingly restless traffic to a standstill for minutes at a time, and all vehicles around the traffic circle stop for a moment to enjoy the natural spectacle. The visual experience of the eruption thus also becomes an acoustic experience!
When does the geyser erupt?
The Monheim Geyser erupts at irregular times, and it is precisely this unpredictability that makes it so special. When 64 hours of sunshine have been collected and the wind and temperature are right, the geyser erupts several times within a four-hour period. This can happen at any time between 6 a.m. and 10 p.m. and goes on for three to five minutes each time.
10.03.2024
10.03.2024
Probable time
of the next eruption
Proportion of hours of sunshine collected so far until next eruption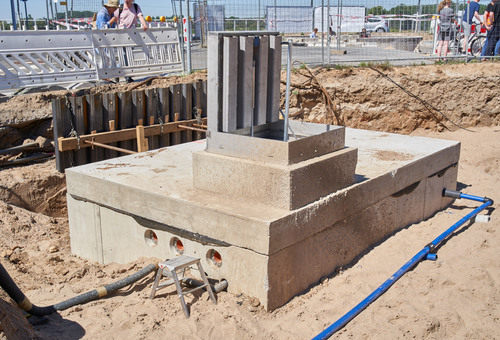 The technology and functioning of the Monheim Geyser
A unique kind of technology is used for the Monheim Geyser:
With the aid of several pumps, 15 cubic meters of water (15,000 liters) are ejected every time the water shoots up. The main pump uses 45 kilowatts of power – as much as the engine of a small car.
The public work of art erupts whenever the geyser has collected 64 hours of sunshine and the wind strength and outside temperature are just right to make an eruption possible.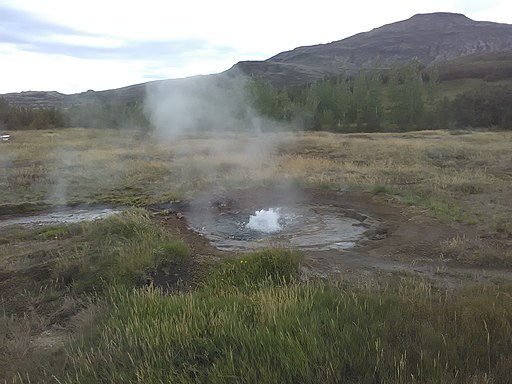 Generally, geysers are found near active volcanoes, where there is an abundant underground heat source. Underground water or surface water that percolates downward comes into contact with hot rock and expands, turning into steam. This steam pushes boiling water through a vent to the surface, forming a geyser. However, there are also cold-water geysers, such as the geyser in Andernach, where CO2 and the resulting pressure play a decisive role, similar to a bottle of mineral water that's been shaken.